I just want to thank everyone for the positive comments left on my Easter Basket Blog Hop project post. Since most of my new followers found me along the bunny trail blog hop hosted by Joy over at
Joyslife.com
, then there is a good chance that you saw the
announcement
yesterday that I am one of the newest Joy's Life Design Team members she is adding to her current line up.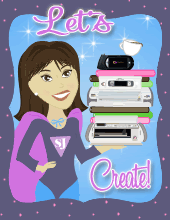 So here is a little info about me that you may have missed on Jin Yong's site
Under a Cherry Tree
during her last Friday Reader Spotlight.
10 Things to know about me:
I live in GA.
I have been married for 8 years and we have a 6 month old baby girl.
I work in the printing industry (next time you are in Wal-Mart...look up...I did that!).
I have been making cards since 2008.
I am a newbie when it comes to scrapbooking.
All my supplies starting out were "second-hand" courtesy of my Mom.
Clean and Simple (CAS) is my overall style.
My Mom is my BFF and my craftiness comes from her.
I love color, but blue and yellow have to be my two favorite.
I have 2 cats and this one (Emma) is my crafting buddy and insists on adding her own personal touch to each of my projects (aka...cat hair)!
Have a great Monday!!